THIS IS AMERICAN ENTREPRENEURIALISM AT IT'S BEST!
The new economy is different than anything else you have seen come before this moment in time. The playing field has become more level between large corporations and small mom & pop's… AND… the rewards are being claimed by all those who were courageous enough to take action.
We are Entering into a New Realm of HISTORICAL SIGNIFICANCE
There is no reason to talk yourself out of being the big money maker that you deserve to be. You already have VALUE built right into you as a PARENT! There are so many awesome products out there being created by mom and dad visionaries that my head is spinning out of control with excitement for all that remains possible.This is your time.
Jump in and be a part of all that is epic!
Tomorrow's opportunities are being created by people TODAY that you've most likely never heard of. No doubt, YOU may be one of them! All of our future leaders are currently living out the journey of real life experiences as they push forward with tenacity and persistence. Currently being actualized are the true tales of how these go-getters grew an empire from nothing— working from their kitchen tables or from inside of their garage.
On This show…
Get busy getting rich! Our guest for this show is Romy Taormina, co-founder of Psi Bands which are now selling in more than 10K US retail locations, including CVS, Target, Babies "R" Us, Whole Foods, REI, and more. Romy will be talking to us about the topic of getting —and keeping — your unique product on the retail shelf. She will also be sharing about her entrepreneurial journey before and after Shark Tank.
About Our Guest
Meet Romy Taormina!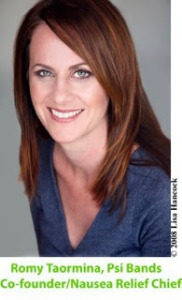 Romy is Co-Founder/Nausea Relief Chief of Psi Health Solutions, Inc., the maker of Psi Bands. Psi Bands are FDA-cleared acupressure wristbands for the relief of nausea due to morning sickness, motion sickness, anesthesia, and chemotherapy. Romy suffered from terrible morning sickness during her pregnancies yet found nausea relief from wrist acupressure bands.
Dissatisfied with existing products on the market, she helped to co-create Psi Bands, a product designed to help those with nausea find relief – in comfort and style. Romy has hit the stage with her product Psi Bands with national retail distribution at Rite Aid, CVS, REI, Whole Foods, Meijer, Target.com, Walgreens.com, etc., and international distribution in five continents. Romy also blogs on the topic of getting — and keeping — products on the shelf at retailtable.com.