Our Children are Intricate Reflections of Ourselves
Without EVEN TRYING, a mother's womb is a naturally PERFECT environment for the maturation of a brand new physical being— and there is nothing yummier than a baby falling effortlessly into dreamland in its mommy's warm embrace.
Babies come in perfect readiness!
Babies come into the world completely prepared to ignore us and the conditions that we place on them. Why do we — as adults— feel the need to rush the manifestation and alignment process? After all, isn't SLEEP the most natural thing that we as humans already know HOW to do? Do we really need to be TAUGHT how to sleep?
The Gift of Happy Sleep
The greatest benefit of sleep is that it allows us to release resistance and receive fresh energy alignment. Babies — just like us— are the creators of their own experiences, which is why self soothing is a learned behavior that will carry our little sleepers into healthy physical and mental maturity. When we get too involved… we disrupt a very natural process. Babies then learn that they must rely on their parents for sleep soothing… setting the stage for a lifetime of entitlement.
Sleep. Awake. Be Set Free.
Newborn babies come into the world at an advantage over the rest of us. The energy that surrounds them is already a wonderful place of well being. From the moment we are born we begin to create opinions about the experiences that we are having. What we like… we aim for MORE. What we don't like…we aim TO AVOID_. These simple desires add to our expansion and give us clues as to the essence of who we really are.
_______________________________________
On Today's show…
Please welcome sleep psychotherapists and sleep experts, Heather Turgeon and Julie Wright— co-authors of the newly released book, The Happy Sleeper: The science-Backed Guide to Helping Your Baby Get a Good Night's Sleep– Newborn to School Age. Tune in for discussions about the personal stages of introspection, the role that sleep plays for all of us as parents and entrepreneurs, and how to flow more effortlessly with the emotional landscape of our life experiences.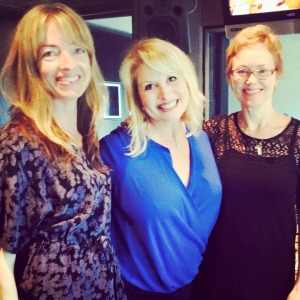 Today's Guests
Meet Julie!
Julie Wright, MFT is a psychotherapist specializing in babies, children and their parents, in groups, private practice and sleep consults. She created the curriculum and approach for the popular Wright Mommy and Me classes at the Pump Station in Los Angeles, which focus on empathic, mindful parenting and include lots of teaching about sleep! Julie lives in Los Angeles with her son and visits her east coast family often.
Meet Heather!
Heather Turgeon, MFT is a psychotherapist who writes about child development and parenting. She is a science writer for the National Sleep Foundation and is the author of the long-running "Science of Kids" column for Babble. A Northeasterner at heart, Heather lives in Los Angeles with her husband and two little ones. Both of whom are happy sleepers.
About the Book
Many parents feel pressured to "train" babies and young children to sleep but kids don't need to be trained to sleep, they're built to sleep. Sleep issues arise when parents (with the best of intentions) overhelp or "helicopter parent" at night—overshadowing their baby's innate biological ability to sleep well. In The Happy Sleeper child sleep experts Heather Turgeon and Julie Wright show parents how to be sensitive and nurturing, but also clear and structured so that babies and young children develop the self-soothing skills they need to
~ Fall asleep independently
~ Sleep through the night
~ Take healthy naps
~ Grow into natural, optimal sleep patterns for day and night
The Happy Sleeper is a research-based guide to helping children do what comes naturally—sleep through the night.