A BUSINESS MENTOR THAT FITS… YOU
Whether you are just starting out or looking to grow your business to the next level, having a business mentor is a terrific way to benefit from the perspective of someone who knows how to get ahead.
As someone with more experience in entrepreneurship, a seasoned business pro can advise you on how to hone your abilities as well as navigate new challenges. A mentor can provide pointers on business strategy, bolster your networking efforts, or act as confidantes when your work-life balance gets out of whack.
Personally I have a whole treasure chest filled with business support that adequately feeds me when I am stuck.
If you were to take a look inside my bag of tricks you'd see the following: Two business mentors, a three person business mastermind, several business coaches, some go-to books and refresher videos, and a whole lot of supportive colleagues.
Each of these resources provide me with compatible solutions.
So …what's the difference between a MENTOR and a COACH?
My personal business mentors are hugely successful powerhouses. They are rooting for me and I know that they are always in my corner. I chose them as mentors because I personally strive to be more like them.
These women business leaders are available if I need some sound advice and at no cost to me…BUT they are usually very busy and getting time with them isn't always easy. Therefore I know that it is best NOT to bother them unless the favor I am asking is PIVOTAL. It's best to treat your business mentors like an EMERGENCY CREDIT CARD…used JUDICIOUSLY and ONLY in extreme situations.
A business coach is a bit different. They are on your payroll, help you strategize, and keep you accountable when working towards a specific task. Business coaches have knowledge, tools and resources to help you improve and reach a specific destination.
Will hiring a business coach lead to more cash flow in your business?
Like every other business expense, it is important that you pre-screen the business coaches that you would like to work with before handing over a down-payment. Check their references and consider if you should expect a nice return on your investment before making the commitment to work with them.
Not every business coach will be a fit for YOU and your unique situation. In fact if you are not careful, the most brilliant coaches will not be able to help you if they are not in alignment withYOU and your business. For example, it is important that your business coach understands your unique situation as a work-at-home parent.
Pay it forward.
Looking for a way to display kindness and community service? Business mentoring can be a wonderful way to give back to the community that was there when you first ventured into business for yourself. Be a business mentor to someone who is less further along than you are and you can expect to grow as a leader in the process. Set boundaries like how often you meet and how many mentees you can conceivably take on without draining yourself.
On Today's show…
I will be introducing you to this week's guest, Clare Luffman, a highly successful business mentor for women, especially with family focused strategies.
Meet Clare Luffman!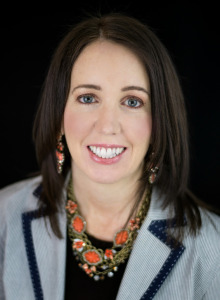 Clare Luffman is a sought-after mentor for Mompreneurs. She specifically helps service-based women entrepreneurs (such as coaches, consultants, healers, mentors and solo-preneurs) create business models that are family-focused, super streamlined and highly profitable.
She was first bitten by the entrepreneurial bug more than 10 years ago, when she began her first in-home business as a Mary Kay Sales Director.
But she quickly realized that what she loved most about the business was the mentoring and training of the other women in her sales unit. So she decided to take a leap of faith and she created an entire business based on that, where she could support women all across the US. Women who wanted to work from home AND have an incredibly successful business. Her forte is to simplify the business-building process and her mentoring style can best be described as "loving her clients into their greatness."
You can learn more about Clare and grab your free training gift 5 Favorite Strategies for More Clients, More Money and More Freedom HERE.