Are you passionate about working at home?
Lisa Kanarek is. She thrives on the freedom and she celebrates it every day.
Making the choice to bring your career home can initially feel like the most liberating move a person can make. I mean let's face it, you can't get fired. You can play hooky anytime you feel like it. You can work in your pajamas, or even naked if you were really so inclined. You can earn as much as your little heart desires without that annoying glass ceiling. What could be better?
The sad truth is that being your own boss isn't always as glamorous as it seems. Working at home can get messy. We become clumsy, disorganized, caught up in the double (and triple) duties of being a homemaker and a parent and an entrepreneur. We are always very busy, but often very broke.  The passion we feel about our careers gets buried beneath the not-so-fun administrative tasks, the little concentration breakers (those darn kids!) and the pressure we put on ourselves to get an income for our effort. We begin to wonder if we were just overly ambitious in our goals to "do it all."
Improve the way you work at home, and you'll fall back in love with your business.
During this show,  I will be introduce you to work-at-home maven Lisa Kanerak. We'll be chatting about how to get back that entrepreneur enthusiasm and take it to ultimate celebration. Lisa will be sharing productivity tips, strategies for a more efficient home office and time management solutions for the busiest boss moms out there. Together we'll find that groove that makes us great.
Our Guest
Lisa Kanerak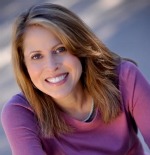 Lisa Kanarek is one of the nation's leading home office experts and the author of five books, including Organize Your Home Office for Success and Working Naked: A guide to the bare essentials of home office life. She has been featured—as an author and in interviews—in hundreds of publications including The Wall Street Journal, The New York Times, Newsweek and Entrepreneur, and has shared her expertise on several national programs, including Good Morning America, CNN Financial News, and CNBC, among others.
As one of only a few home office experts who is also an interior designer, Lisa combines her organization and design skills to create hard-working, productive home offices around the country.
Lisa is also the founder of HomeOfficeLife, a consulting firm that advises home-based business owners on all aspects of working from home including home office set up, function, productivity and technology, and is founder of this blog. She provides training programs to corporations with employees who currently work from home or are transitioning from a corporate office to a home office. Read more about her at WorkingNaked.com.