Sometime Mommy just needs… Daddy.
Like today.
The first day of Kindergarten for my youngest baby.
It's not as if I didn't prepare. I've been ready for eight years…or so I thought. This was SUPPOSED TO BE the day that I would be able to get back to myself, my sense of peace, and the voices in my head.
A chance to revisit the woman I was BEFORE I became a parent…
Ironically, I have never felt MORE like a parent than I do right now. I have become outlandishly aware of the dubiousness that surrounds me as a mother who just graduated her baby to big boy.
Did I pack him enough to eat? Should I have looked for a school with a half day kinder program? Are his new shoes going to be comfortable for him? Will he be HATING me when he comes home?Do I really have to go through all of this AGAIN tomorrow?
Even more ironically, I don't remember having much of a purpose or even a clear vision of WHO I was UNTIL I became a mother. So, remembering a more independent me is a little more complicated than I expected.
Thank Goodness for Daddy.
The experts say that to cope with life changing events, we should surround ourselves with solid and understanding individuals. That person for me is my husband, Chris Loprete.
Although, I do admit that I am a little resentful that HE doesn't seem to be suffering nearly as much as me… I am grateful that one of us is able to hold it together.
This Dad is the voice of reason for this Mom (and for that kindergartner).
Through gentle counseling and sense of humor, our partners can make all the difference for how we cope during transitional stages. With Kleenex in one hand and my husband's hand in the other, I fully embrace the journey that I signed up for when I became a parent in the first place.
(I'll be fine. No really.)
On This show…
YOU GUESSED IT!! I am calling upon my biggest reinforcement…my partner in life, love and crime… my level-headed and commonsensical champion and corroborator…and my absolute better half: Chris Loprete.
Today we are an open book. Anything and everything you EVER wanted to know about us, how our marriage works, the truth about what it's like to be married to this deranged mama, what REALLY goes on in the Loprete household when we think no one is watching… all will be revealed on today's show.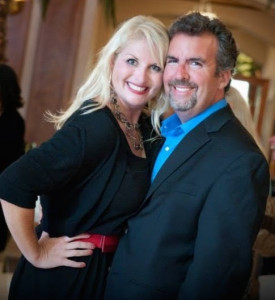 About Our Guest
Meet Chris Loprete!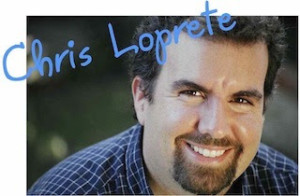 Chris Loprete grew up on the streets of Philadelphia. To be more specific, a split level home on the affluent suburban streets of Philadelphia. After earning a degree in Theatre Arts from Penn State University, he moved to Los Angeles because he was now fully qualified and credentialed to become a big time actor. After working several months as a customer service rep for a small limousine company, he landed the coveted position of Universal Studios Tram Tour Guide. While there, he met and consequently fell for a spunky, adorable blonde with a big heart and bigger dreams. Now 16 years later he is appearing as a guest on her radio show.
So except for the fact that Chris has the same last name as the host (check that. She has the same last name as him. But she's doing more with it), what could possibly qualify him for appearing on a show about self-employed parents? Nothing. But he has done some stuff, I guess. He created THE DADDY'S DEN Blog for OurMilkMoney.com.
For years, Chris has whined about the good, the bad, and the ugly things it takes to be a father. He also wrote and performed his one-man show "You're from Philly, Charlie Brown!", which had successful runs at Circle X Theatre, The Lonny Chapman Repertory Theatre and The Comedy Central Workspace in Hollywood, California as well the 2005 Philadelphia Fringe Festival.
He's performed all over the country in theatrical productions, television and film. You've most likely never seen him on TV, but he's done some voice over and is really proud of a Billy Joel impression he did on MADTV once. He is an alumni of several theatre companies including The Circle X Theatre Company and The Groundlings SundayCompany.
Currently he is a writer/producer for the Comedy and Reality Promo Team at ABC Television which means millions of people see his work every night but don't know it and frankly don't care. He won a couple of ProMax awards too. Y'know the Oscar or the Emmy? Yeah, it's nothing like that. But it was nice to be recognized in his field.
Watch the SIZZLE for THIS LITTLE PARENT STAYED HOME… The Reality Television Show!!
This Little Parent Stayed Home from Bowstring Studios on Vimeo.