Blight? or Blessing?
Depending on the way you look at things, this generation's fast booming presence of the internet can feel overwhelming to some, and over bountiful to others. C-H-A-N-G-E is not always easy, but if you are willing to progress forward, you are more likely to beat the rush hour of the cyberspace highway.
—Are we like mice trapped in a maze waiting for someone else to give us the "cheese" that we feel ENTITLED to?— Revisit this past show where we talked about the cult favorite book –> Who moved my cheese? <–and how YOU could be killing off your business and joining the extinct by simply wishing for the things to return to how they "used to be".
GET UP TO SPEED! Technology of the 21st century has radically changed our daily routines, our opportunities in business and our family lives in new and REVOLUTIONARY ways.
Instead of feeling inconvenienced by the digital age we live in — try showing some GRATITUDE. After all, most of us would never have the small businesses that we do without data technology —without the blog-o-sphere– without cyber-connection– without DIGITAL MOBILITY.
Mobile Websites

: Your new business card.
So– you finally understand the importance of having an online presence— you broke down and got yourself a snazzy business website. —DON'T GET TOO COMFORTABLE— because NOW it's time to make your website "mobile friendly."
WOW. Just when we were starting to feel "in the game" the game has changed… AGAIN.
The new reality is that 70% of online searches are now done on mobile devices. Congratulations. If you have kept up so far— your website allows you TO BE FOUND online. Now it's time to get MOBILE FRIENDLY. 
Stop the endless pinching, scrolling, and copy-pasting to make a phone call.
Did you know—?
59% of mobile users only look at the first page of a website.
74% of mobile users will leave a mobile site if it doesn't load in 5 seconds.
50% of mobile users are unlikely to return to a site if they had

trouble accessing

it.
33% of mobile users choose to go to a competitor's site rather than reload the site they are trying to access.
Don't act as if we've never been here before.
Remember VHS tapes? Not only did we convert those big bulky organizational nightmares into shiny little DVDs, we found digital recording devices (DVRs), flattened out our TVs and widened it's screens to recreate the experience of sitting in a movie theater. We even went back and converted old films and home movies into the new format. NICE–NEAT–CONVENIENT.
How about telecommunications? Answering machines that "ate up" your messages with tangled up tapes are a long gone thing of the past and have been replaced with film-less –cyber– voice mail messaging and the ability to reach ANYONE instantly through TEXTING.
You have no choice to keep up …and… it's a good thing.
On this show, expert Karen Kanefsky— from GopherMobile.com –will be educating us on the need to make our business websites "mobile friendly" and how to upgrade our customer's digital experience when connecting with us ON-THE-GO.
Our Guest
Karen Kanefsky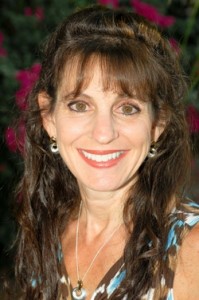 Karen began her career in Marketing in the Apparel industry after graduating Summa Cum Laude with a business degree from the University of South Florida.  She worked for a uniform manufacturing company for 17 years where she became VP of Marketing.  Unfortunately, the company went bankrupt due to the economic downturn, the changes in the medical field and offshore manufacturing.
Karen decided it was an opportunity to spend lots more time with her kids. She's a bit antsy so she also started several entrepreneurial businesses including Send Out Cards where she continues as an Executive.  These incredible years and experiences, allowed Karen the ability to stay home as well as create a substantial residual income. Last year, Karen was offered the opportunity to partner with 3 very talented entrepreneurs in Gopher Mobile which she recognized as a unique and amazing development.  She was so excited by this simple logic combined with powerful technology that she realized is detrimental to small and medium businesses.
Her drive is to share this very affordable and necessary tool to help small business have a powerful presence in the mobile tech world. Karen has a wonderful husband Mark and her son and daughter are a sophomore and freshman in college now.  Karen lived most of her life in Baltimore, MD but has been living in Scottsdale, AZ for almost 17 years.  Her company does business nationwide and her partners are talented in technology, graphic design and business to compliment her expertise in sales and marketing.