Becoming self-employed is like having a second chance at LIFE.
It is not uncommon for the birth of a child to bring about a sense of creativity in a new parent. After all, we have just revealed our greatest capacity for CREATING. It makes a lot of sense that this life transition may unleash more than just your maternal instincts. Now that you are viewing the world through a parent's eyes, it makes sense that you would want to contribute more to the environment in which your child is being raised. Along with a desire to trade a corporate career for self-employment, it's natural to develop a deep love for works of art that inspire beauty, deeper meaning, and inner peace.
Bathe yourself in creativity.
Now that you are in a position to CHOOSE your next career why not choose one that brings you personal fulfillment? Whether it be music, painting, creative writing, or interpretive dance… the possibility of earning an income by doing what you love is worth exploring. After all, finding your true purpose and loving your chosen profession is the sexiest new trend!
Being a deliberate creator takes commitment.
Creative careers are commonly discouraged because of the sheer competition. However, if others can find success, there is no reason why you can't have it as well. Thousands of celebrity artists, actors and musicians have shown us that it IS possible to launch a successful career –and remain JOYFUL– in a competitive industry. However, there are thousands MORE who have found success in a creative career without becoming a celebrity.
Stay true to your passion no matter what "they" say!
Speak up, own your power, and claim what you want! When you are in the flow of joy, work never feels like work and the journey is always worth it.
_______________________________________
On Today's show…
A live treat for all you music lovers! Along with an exclusive in-studio live performance, we'll be welcoming on the songwriting and performance team Emeralde, and discussing their collaborative process, the benefit of having a free-spirited willingness to go where the signs SAY NOT TO GO, and how to stay bathed in joy when the creative component gets muddled up in "business".
Today's Guests
Emeralde
Genre: Dream Pop with a Cinematic Feel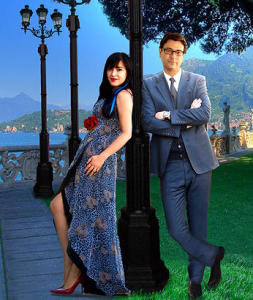 Songwriting duo MarcoGio and Margie Russomanno will take you to places of deep grooves and ethereal dreamscapes. Marco's lush style and Margie's Dream Pop sensibilities create gorgeous music with a cinematic feel!
MarcoGio (Mark Gasbarro), composer/arranger, producer and conductor, his piano playing and orchestration has been featured on a long list of Hollywood blockbusters including the beautiful, touching featured piano solo in Pixar's wonderful film Up which won an Academy Award for Best Score, The Incredibles, Ratatouille, Cars 2, Star Trek, Star Trek Into Darkness, Super 8, Mission Impossible Ghost Protocol, all the episodes of ABC-TV's huge hit series Lost, and many others.
Margie Russomanno, Pop Singer, song writer. She writes music for TV and feature films. Her most recent solo CD release, All I Need is currently in the #1 position on Reverbnation. Margie has over a half a million YouTube views.
In the way that great fantasy films, Lord of the Rings, Harry Potter, the films of Pixar and so many others, thrill us with the possibilities of new and beautiful worlds rising out of the ordinary; in the way that our most inspired novelists, C. S. Lewis, George MacDonald, Lewis Carroll, Edgar Rice Burroughs, use fantasy to distill reality and lead us to wonder and dream and capture audiences of all ages; so is the music and imagery of Emeralde.