The global trend that was started by Mom
Fed up with a world that demands that women earn half of their family's household income, but refuses to pay them equally and penalizes them for having children… it's no wonder that Moms have started their own businesses in record numbers.
Congratulations. We've rewritten the cultural American landscape.
Whether you realize it or not, you have contributed to the movement that changed work and family life in revolutionary ways. While corporations were scratching their heads, 30 million women were creating new wealth and contributing to a surge of global employment opportunities for the last 10 years.
The "Mom" movement has grown exponentially…and is STILL experiencing growing pains.
Yep, there is some disappointment.
(Don't worry. You are NOT the only one!) Many moms in business are still not earning what they had hoped to when they were first bitten by the entrepreneur bug. Everywhere you look there is another social media pal trying to get your attention on a new product or opportunity. We are getting confused about what SUCCESS actually means. Personal aspirations and financial goals need to be reached… for sanity's sake….
It's not about keeping up with the Jones's anymore.
We are free to define success on our own terms and that is reason enough to celebrate. As long as we are able to work at our own pace, pay for stuff, play with stuff and experience stuff…ON OUR TERMS… I say, that's progress.
Learn from a couple of powerhouse moms!
We've invited a great team of women to the show today to share details on how to start a successful home business. Please welcome our returning guest April O'Leary and her authoring partner Jessica Higdon!
These amazing ladies have co-authored their latest book "The Networking Revolution: Five Ways Women Are Changing Their Lives Through Home Business Ownership."
Today's Guests
Welcome April and Jessica!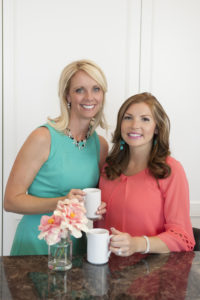 April O'Leary is a mother of three girls, a life and business coach who launched her home business in 2010 and coaches women around the world to build their home businesses in the nooks and crannies of their already busy lives through her online coaching group, The Hive. More info about April—>
Jessica Higdon was a top earner in the home business field who built her business in less than 18 months using social media. She created a 10K Social Media Recruiting Formula that has helped many build their teams and earn more income in their home businesses. Now a mother of an 8 month old baby girl, Jessica still maintains a global business and speaks all over the world. More info about Jessica—>
Dispel myths about the Network Marketing Industry and lose the skeptics once and for all!