Hot mamas know how to work it in the bedroom and in the boardroom!
I'd like to think that we've been through enough together and have moved well beyond being embarrassed about asking the tough questions.
We know that sex sells and we know that sex heals. So why not use a little sex to up our game in business?
For this show, I am bringing on my good friend, Lou Paget, a well known Certified Sex Educator prominently featured on HBO and FOX. This Friday there won't be anything holding us back from telling it like it is… and getting down and dirty.
You will LOVE Lou.
Beside Lou being a complete blast to spend the hour with,  you will learn things about the world of sex that you didn't know affected our every day lives as moms, soon-to-be-moms and entrepreneurs. Don't tune this one out because you think this show doesn't apply to you. Too many women (including myself) have opted not to pay attention to their sexual power simply because they didn't have the time to make it a priority. The truth is that those that join us this week will be one step ahead in business, parenting, and female empowerment.
I Choose to be a Hot Mama! Do you?
Lou Paget will be covering everything an empowered Hot Mama needs to know, from the questions she is too embarrassed to ask to things she wishes someone would give her permission to do! This goes beyond nurturing your sex life straight to the smart, sexy, and incredibly savvy!
Our Guest

Lou Paget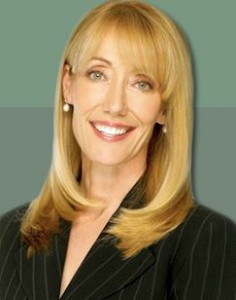 Lou Paget is a certified AASECT* sex educator and grassroots researcher whose quest for accurate, practical information for herself has created a highly successful international seminar and product company with a focus on lifestyle and cultural trends that impact our sexuality, health, and relationships. Paget began organizing her Los Angeles-based women's focus groups on sexuality and health in the early '90s.
What she didn't anticipate was that her small, informal discussion groups would explode into some of the most popular and revolutionary sexual forums both nationally and internationally.
Lou Paget has single-handedly given the arena of sexual education and information a more accessible and honest attitude. Her corporation's name, Frankly Speaking, Inc., is inspired by an acronym for the principles she values most in sexual education: Freedom, Respect, Accuracy, Non-judgmental, Knowledge.
Lou Paget's one-hour television special on the WE Network, MAKING LOVE HAPPEN WITH LOU PAGET will premiere on Tuesday, August 1st. Her 5th book, HOT MAMAS: THE ULTIMATE GUIDE TO STAYING SEXY THROUGHOUT YOUR PREGNANCY AND THE MONTHS BEYOND released with Gotham Press, January 2005. Lou Paget has been busy in all other media as well. Her extensive media list can be found here.
As she continues her quest for information in the field of relationships, Paget has been prominently featured in the HBO program REAL SEX, and the massively successful British documentary SEX TIPS FOR GIRLS. Equally respected by her peers in the fields of sexuality research, she regularly presents at national and international professional conferences. Paget is also expanding into different seminar markets, taking advantage of more international marketing opportunities, developing product lines of adult novelties that work, and expanding her broad media collaborations.
With her trademark calm, fearless intelligence, Paget delivers the core essence of information about intimacy. As an international  bestselling author of FIVE books, translated into TWENTY-SIX languages, and represented in over SIXTY countries with over THREE million copies sold, it is clear that global audiences are hungry for Paget's expertise. When it comes to intimacy and sexuality, Paget says, "Common sense isn't all that commonly practiced but we all want it."