We could all use a little MAGIC in our lives.
I have not even left New York  – where I was HONORED to be on the stage at Mom Gets A Business Conference— (I am writing this as I wait to board the airplane at JFK) — and I simply cannot contain my enthusiasm for what I just experienced!
When I first began this journey as a self-employed stay-at-home Mom, I was not only looking for a way to provide for my children that did not take me away from them every day, but also a way to nurture my desire to make an important mark on the world.  I had QUITE an uphill battle ahead of me. I was determined to create wealth ON MY TERMS, prove to the naysayers that IT COULD BE DONE…and I didn't care that I didn't HAVE A CLUE where to start.
But I had more than "a clue". I had a VISION that fueled so much passion in me… nothing would allow me to back down. Ignorance was most likely bliss… because if I REALLY KNEW what was ahead of me, I might not have ventured forward. I HAD TO BELIEVE IN MIRACLES– and I learned to close my eyes and ears to the negative chatter. Now, when I am asked about HOW I got to where I am… I can't help but think of the remarkable women that I have chosen to surround myself with in my journey. These women taught me that MAGIC was possible.
The Magic is already within YOU
Okay, if you think this sounds fluffy— you are not far off. BUT… don't write off this message JUST YET. When I say "magic," I am talking about ALL that has been accomplished by those who had visions, followed their instincts, and broke new ground DESPITE being told it couldn't be done.
I am talking about those who trusted their heart even when their head told them it wasn't logical, those whose ideas were rejected – whose confidence and self worth was marred – and those who found a way to create MEASURABLE SUCCESS against the odds. We must NEVER stop learning from those who have created magic before us. Every day new paths are paved FOR US … so that we may be able to create our own.
MAGIC defies the laws of science.
We are all up against SOMETHING…that is what makes life INTERESTING. Trickery or not, the BELIEF in MAGIC is what fuels our spirit and feeds our energy to keep going.
On this show I'll introduce you to a Mom who needed to heal and created magic and miracles. Through her experience… she discovered her "super power" in healing others. Janet D. Thomas is the author of Lemons, Lemonade & Life – Practical Steps for Getting the Sweetness Back When Life Goes Sour. It's always a favorite topic of mine. Instead of seeing the struggles in our lives as a hindrance — we can just wave our magic wands and turn those struggles into STRENGTH.
Today's Guest
Janet D. Thomas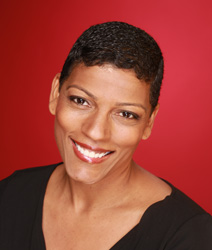 Janet D. Thomas, author of Lemons, Lemonade & Life – Practical Steps for Getting the Sweetness Back When Life Goes Sour is a captivating speaker, engaging writer and dynamic workshop leader whose words inspire and motivate, energizing transformation in those who experience her. She has personally healed the wounds of childhood sexual abuse and overcame a laundry list of life challenges which included obesity and clinical depression.
To her, making lemonade is no mere philosophical or psychological proposition; it has been a life-saving strategy. Because of the intensity, determination, and sheer dedication with which she pursues her calling, Janet is, indeed, a healing soldier.  A lifelong metaphysician and with over 20 years as a trained channel and medium, Janet is a highly effective spiritual coach.  A Los Angeles native, she lives, writes and maintains her coaching practice in North Hollywood, California.  She is the mother of an adult son, of whom she is very proud.