If you are going to DREAM BIG, you have to be willing to PLAY BIG.
One of the biggest reasons women in business don't PLAY BIG is because they don't give themselves permission.  Growing your SMALL business BIG is … well… it's a BIG decision to make.  
Not everyone wants to play big— and that is okay too.
When I first became an entrepreneur… it was kind of a happy accident. I didn't set out to become a big income earner. All I wanted was to be able to afford to leave my corporate job (and my corporate salary) and get busy being a mom. I needed a way to FUND that.
Playing BIG was NOT the intention.
In my pursuit of a basic supplemental income, I discovered (totally unexpected) that I not only had a head for business, but I also had a knack for helping others bring their ideas into fruition.
A mom business coach was born.
I just returned from an amazingly CONTENT RICH business retreat– one of the most effective programs for entrepreneurs I have EVER been a part of– taught by my good friend Kim Flynn. She teaches women to PLAY BIG, earn those six figure incomes, and systematize a money producing machine on a GRAND SCALE… (and if this is YOU… I HIGHLY recommend that you check out her programs!) I am a HUGE fan of Kim's Plug and Play System, but more than that… her value and her commitment to her clients. She shows up for them.
There was an emotional moment for me personally at the retreat when I realized that as much as I wanted to play big …in reality…playing any bigger than I am doesn't REALLY fit into my current lifestyle.
I literally had to step back to regain my clarity, but once I reclaimed my intentions for being a stay-at-home mom— I realized–I am already living my dream….and it's actually enough for me (at least for right now).
No, really. I AM THERE. Once I gave myself permission to be happy with my current status, I was truly able to appreciate the small scale of what my business is able to do for me AND MY FAMILY… but most of all… I love that I am able to do it on MY TERMS— and right now— my terms are being able to give myself 100% to my kids while they are still young. That was my goal… and it's been ATTAINED. =)
Not every opportunity that you are presented with will be in alignment with WHAT YOU WANT.
So that is why it is important to check in with yourself  — really– take the time to ask the important questions about your ultimate intentions, and then be sure that the tasks you are doing on a daily basis are in alignment with those goals.
You can always change your mind later. (…and you probably will!)
Our guest for this show is a mom entrepreneur who had a BIG vision and played BIG when the time was appropriate for her. Ewa Asmar's pregnancy was full of passion and dedication to create her new venture: Bionée Organic Certified Skin Care. She came with strong experience in product development for international cosmetics companies and was able to combine her knowledge for the industry with her passion to create and develop beauty products that speaks to the needs of women. She will be joining us today to share with us how she got her capital investment to build her vision and how you can do the same.
Our Guest
Ewa Asmar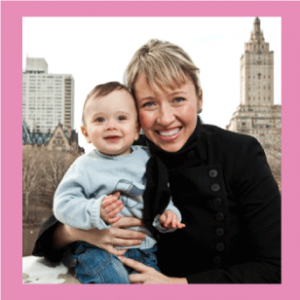 Ewa Asmar is a New York based "mompreneur" and cosmetic industry expert with over 12 years in the business.  She is dedicated to providing safe, efficient and pleasurable products to women and their children.  In 2010, Ewa founded Bionée Organic Certified Maternity Skin Care while she was pregnant with her 1st child.  
Originally born in Poland, Ewa has lived and worked all over the world including Germany, France, Australia, the United Kingdom and the USA.
She took an interest in cosmetics while in Paris and soon after established herself as a cosmetics industry leader with positions at Yves Rocher, L'Oréal and most recently as Global Product Manager at The Body Shop, the natural products pioneer.  
As her work experience grew, so did her ideas for natural products for women. Unsatisfied with the products available to her during her own pregnancy she knew she could provide much more to the world.  So, Voilà, Bionée was born!  She wanted to create products that were not only safe for women, but also safe for the environment.
That is why Ewa made sure that Bionée products supported Fair Trade by including Fair Trade Organic Honey from Argentina in every product.  She also made sure that Bionée received organic certification from internationally recognized ECOCERT and Choose Cruelty Free. For all Vegan mamas, this is also the product for you! Currently the line is forging its way into a national distribution in the US and gets a lot of attention from international distributors!