Sometimes the most practical concepts are the most prolific.
You don't have to be a Rhode Scholar to come up with an innovative new concept. If you are like most people, you have an infinite sea of fresh and ingenious ideas swimming around your head. In fact, you just might be sitting on top of a gold mine— if only — you had the confidence (or the wherewithal!!) to dig into the cold hard surface and reveal it's value.
What do they got that you ain't got?
Nothing. That's what.
Ideas are a dime a dozen, but the truest innovators are the ones whostep up to the plate and give it their best shot. YOUR ideas could be worth a fortune if executed properly, but are worth NOTHING locked away in a vault.
If you can conceive it, you can convey it.
The way that you perceive your most asymmetrical experiences can be the guiding factor in your very own "brainchild". Yet you must believe that no one else can fill your shoes in bringing the concept to life. If you choose to let a brilliant idea die on the vine, then you don't deserve the cash it will bring when SOMEONE ELSE discovers it.
Don't deny the world YOUR gifts and talents — simply because you are afraid to fail.
_______________________________________
On This show…
Learn from the Spunkiest!
Our guest for this show is a perfect example of courage and determination! Robin Palmer, a former Broadway performer and the inventor of My Wake UP Call Motivational Alarm Clock® Messages will be joining us to share with us how she came up with and patented this amazing product– daily five-minute messages with world-renowned experts and thought leaders, which start every day positively inspired to help people live the life of their dreams.
We'll learn from Robin not only HOW she found success with her product, but also WHY it is imperative that we actively and effectively set the tone in the first and last five minutes of our day.
About Our Guest
Meet Robin Palmer!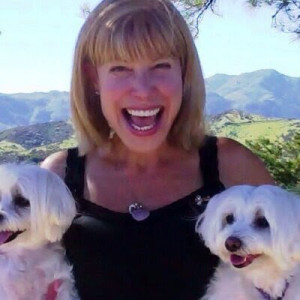 Robin Boudreau Palmer starred in Broadway musicals for 15 years. Most notably, she played Linda Ronstadt's sister in The Pirates of Penzance with Kevin Kline, co-starred with David Cassidy in Joseph & the Amazing Technicolor Dreamcoat & sang Memory in CATS.
As President of My Successables, Inc., Robin invented My Wake UP Call® Motivational Alarm Clock® Messages & My Good Night Messages™, 20 product lines with over 100-hours of patented, morning & evening 5-minute messages which bookend every day with inspiration to create the life of your dreams, with experts like His Holiness the Dalai Lama, The Secret's Dr. Joe Vitale, Chicken Soup for the Soul authors, Jack Canfield and Marci Shimoff, and many others via instant downloads, iPhone apps or on CDs.
As featured in SHAPE, SELF, Oxygen, Woman's World, USA Today, on Fox and NBC TV & Robin's TEDx Talk, Robin has also written and produced 2 albums of her original songs; Grace Place & My Inspirational Lullabies – which are available @iTunes and @Amazon, and blogs for The Huffington Post.
Robin is a wife and step-mother, and has two Maltese dogs, Hope and Faith Palmer. (Both of their middle names are Charity!)