Be honest. Does social media frighten you?
You wouldn't be alone if it does. It seems like every time we finally master one platform, a new one appears or a new 3rd party application is created. You are no dummy. You appreciate that social media is a terrific tool when it comes to promoting your business and leveling the playing field, but staying technically aware is enough to make your head explode. Without the right comprehension, your social time online could end up being counter-productive.
How are you supposed to get any actual work done with all these social media expectations?
Like every other bit of technology, new discoveries that were supposed to make our lives easier seems to make them more complicated. That is why we are going to attack this topic with the most streamlined intentions for you as a busy work-at-home parent.
Your work time is already limited so it is important to know how to effectively engage in social media and keep your internet presence exposed without breaking the time bank. This week we will be giving you tips and tricks on what social media platforms you should most be paying attention to, how to structure your work time so that you aren't spending hours losing your focus, and how to maximize your time using these platforms in a way that will bring you immediate results every time.
There is no one better to share the airwaves with me on this topic other than the Linked In Lady herself, Carol McManus. Carol built a 6 figure income in less than 18 months by mastering LinkedIn and putting a system in place that allowed her to drive her consulting business in about 20 minutes each day.
Many of you also know that I recently became a sought after Twitter coach once I "cracked the twitter code" and learned to drive traffic by the thousands in just a few minutes each night.
Our Guest
Carol McManus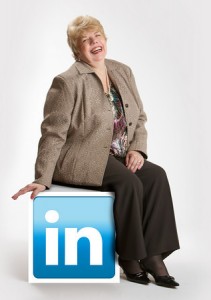 Carol McManus is America's LinkedIn Lady. A self-described 'recovering corporate executive' Carol left her position as Sr. Vice President of Real Estate Operations for Coldwell Banker in 2007 to pursue her own coaching, consulting and leadership training company – Ywait4success.
Like most entrepreneurs starting out, she had no significant marketing budget and wanted to quickly grow her brand and her network so she turned to social media. Using every platform available, Carol was able to attribute her meteoric 6-figure success to LinkedIn as well as Facebook, Twitter and other social media platforms. Her speaking and consulting requests shifted to social media because everyone wanted to know how she did what she did and how they could replicate that success for their own business. Among her clients are best-selling authors who are now using facebook, twitter and blogging to connect with their fans and promote their writing. She is the author of Ten Traits for Top Performers, a contributor to Every Other Tuesday, and author of the soon-to-be-published, Reinvent Yourself at Any Age.
Today, she speaks all over the country, hosts a five day-a-week radio show on rockstarradionetwork.com. Carol's primary passion is to work with entrepreneurs and businesses that want to use social media to grow their brand and their bottom line. In addition she offers a home study course for the do-it-yourselfers, she conducts live and virtual boot camps to help her clients find their voice and power using social media.