Me? Work out? You must be joking. Do I look like someone who likes to sweat?
It was as though I had an allergic reaction to fitness- for most of my life. Joining a gym seemed like the dumbest idea and the biggest waste of money. EVER. Unless there were Broadway show tunes playing and I had my tap shoes on, I didn't like being active. AT ALL.
Running or even walking on a treadmill was pure torture for me. I'd heard people talk about the endorphin rush they got when working out, but I was sure it was a myth.
Then one day I became one of them… a fitness junkie. It started with the desire to have an uninterrupted shower – ("you mean, I can put the kids in the gym daycare and just…shower?") and then I made a deal with myself that I could only shower if I had walked for 10 minutes on the treadmill. It wasn't long before I was enjoying my 1 hour workout SO MUCH, that I was actually sad to have to end my time at the gym.
Yep. All true. Not a myth. I drank the Kool Aide.
This week. I am going to share with you my secrets to incorporating (and loving it) fitness into our stay-at-home routines- especially as a busy career mom who barely has time to brush her own hair. You will thank me for this one.
This week, tune in to learn:
–>Why my gym membership is the best investment I've made in my Home Business
–>How I went from HATING the work-out to loving it.
–> My "guilty pleasure" song list that is guaranteed to make you want to keep moving effortlessly!
–> How to take advantage of all of the benefits of the gym. Everything from cheap child care, to free wi-fi.
–> How to MELT away aches and pains with a self-treatment technique invented to bring youthfulness back to tired, aging bodies.
This week, our special guest is my favorite fitness instructor, Gloria Stewart. There is so much to love about Gloria.  She's fun, knowledgable and cutting edge! I became instantly addicted to her M.E.L.T. classes and couldn't wait to introduce her!
What is M.E.L.T?
The M.E.L.T. Method® (MELT) is a self-treatment technique that helps prevent pain, heal injury, and erase the negative effects of aging and active living. MELT simulates the hands-on techniques that Gloria Stewart uses to eliminate stress, pain, and dysfunction in her MELT classes. This unique Hands-off Bodywork™ approach is the first treatment that simulates the techniques – and the results – of manual therapy.
MELT is the first neurofascial technique. This patent-pending method brings your body back to a more ideal state by directly enhancing body awareness, rehydrating connective tissue, and quieting the nervous system. The first time you MELT, you see and feel a difference – and over time, you can transform how your body looks and feels.
MELT is changing the way people care for their bodies. This proactive approach to maintaining a healthy, pain-free, active lifestyle is the best solution for living longer…better.
 Our Guest
Gloria Stewart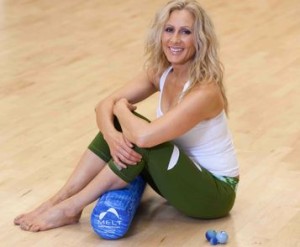 Gloria Stewart believes that the key to good health is adhering to a well-rounded fitness program that includes a healthy– fresh–whole–food diet, an exercise program that incorporates all the components; resistance training, cardio vascular training, muscular stretching, and connective tissue rehydration.
She has been in the Fitness Industry for over 15 years as an ACE Certified Personal Trainer. She runs her own personal training business out of The Santa Clarita Athletic Club, in Los Angeles, CA. Gloria's experience ranges from training young athletes to assisting aging adults in their strength training and MELT routines.
Her experience also lies in corrective exercise for muscular and postural imbalance, and that is where MELT is used in her practice.