Make the world a better place and get paid to do so.
If there is one thing that inspires me, it is seeing a mom who had an idea that would make the world just a little brighter, a little more colorful, and a little more cheerful. Pair that with a mom who needs to create a source of revenue that allows her the option of making her family her number one priority and she's got herself a DREAM JOB.
Wouldn't you love to find out how she did it.
Say Please was started by life-long friends and fellow moms Judi Willard and Mary Fuller, because they were tired of seeing products being peddled for kids and adults with messages like: "My favorite accessory is my dad's credit card", ''Boys are stupid", or "I'm a Biotch."
They decided to create a company that produced greeting cards, clothing and other accessories that featured positive messages, but in a hip and humorous way.
Any time you venture into a brand-new-never-done-before-creative business idea, it takes intense vision, blind risk …and a whole lot of drive – the kind that might cause other people to call you crazy. No part of this is easy. Yet,  mom product inventors like Judi Willard have defied odds, hurdles and adversity to successfully bring their bright ideas to stores like Pottery Barn, Toys R Us and Michaels.
Positive words can change someone's day, a life, and eventually the world.
For this show, I'll be bringing on Judi Willard a licensed psychotherapist who was able to use her talent, education, and passion to come up with a terrific product that helps parents to connect with their kids through upbeat phrases and sentiments that, quite simply, make kids feel great.
Our Guest
Judi Willard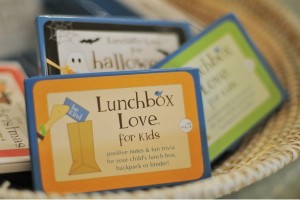 Tired of seeing products with negative messages being peddled to kids (like "boys are stupid" and "I hate homework", Judi and a lifelong friend came up with the idea behind Lunchbox Love.  Inspired by the age-old tradition of placing a heartfelt note in a child's lunch box and the belief that a parent's loving words are as essential to a child's health as a nutritious meal, the moms created Lunchbox Love to help parents connect with their kids during the day.
Judi's background as a psychotherapist and her co-founder Mary Fuller (a journalist), had the perfect blend of talents to come up with just the right words and sentiments that, quite simply, make kids feel great.  It is no longer a secret, but scientifically proven that uplifting thoughts and words have a positive effect on our mental and physical health.