Go beyond slight recognition and dive into stardom.
Years before I was a business coach for parents, I was a business coach for actors in Hollywood.
I didn't teach them how to act, but I did coach them on how to know their "product" as well as how to create out of the box marketing strategies that would allow them to be remembered by the people who were in a position to hire them.
The business of acting isn't much different than your home based business where you structure your own game plan, work to build memorable relationships, and represent your brand with complete confidence and poise.
Many of the most passionate and talented actors share a common pitfall in their careers: They are so passionate about the art of performing, but they often ignore the neccessary business steps it takes to get them in front of the camera, or on the stage.
"I don't want to play the Hollywood game, " they'd say,  "Just put me on the stage and let me perform."
My response?
"If you don't create a business plan and a unique marketing strategy, how do you expect anyone to hire you to perform on a stage?"
Working actors know that their real  job is the audition, not the performance.
Often the most significawork is not in the actual execution of our service, but rather in the implementation of the plan to get someone to hire us.
It should come as no surprise that some of the most talented actors remain unknown in Hollywood, while many of the less talented ones don't have any problem booking role after role.
Short answer?  Those who are working in show biz, know BIZ.
Do NOT under-estimate the power of muscle marketing and out of the box strategies when working to get known in a competitive field. The key is in targeted actions that will get the industry buzzing about you. If you are hungry enough, you shouldn't have any problem taking an unconventional route (or two) to your destination.  Are you willing to shake things up a bit?
On this show, I am proud and honored to introduce you to my friend Wendi McClendon, a television and film celebrity who happens to have crazy awesome talent as well as immensly clever business sense.
An incredibly talented comedic actress, Wendi has never had any problem taking bold risks and working her "brand" on her own terms. Friday's show will be a real treat!
Our Guest
Wendy McClendon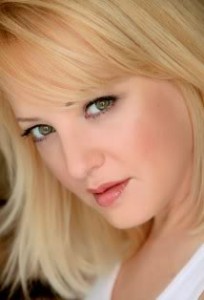 Wendi McClendon
Actress, Writer, and Producer
Most recently recognized in box office blockbusters such as Bridesmaids and What to Expect When You Are Expecting, Wendi graduated from California State University Long Beach with a B.A. in Liberal Studies/Creative Writing. She was a member of the L.A. based Improv/Comedy Troupe "The Groundlings" from 2002-2009 and has been called the "Queen of Improv" by TV Guide for her work on two unscripted shows: Reno 911, and Lovespring International. She served as a spokesperson for the charity COPS 4 Causes and in 2009 and 2010, she rang in the New Year in Iraq and Kuwait, performing at small bases that rarely get any entertainment.
Wendi is more widely known for her role as Deputy Clementine Johnson on the Comedy Central television series Reno 911! which ran from 2003–2009 and resulted in a 2007 film. She also starred in the Lifetime show Lovespring International in 2006 and has provided commentary for E!, TV Guide Channel, and VH1. In 2007 she starred in the comede film Reno 911!: Miami, based on Comedy Central's Reno 911!. McLendon-Covey guest-starred on television series such as The Office, 10 Things I Hate About You, Cougar Town, I Hate My Teenage Daughter and Hot in Cleveland.
In 2011, she starred in the financially successful and critically lauded comedy film Bridesmaids with Kristen Wiig, Maya Rudolph, Rose Byrne, Melissa McCarthy and Ellie Kemper. Beginning in July that same year, she began starring in national TV ads for a new campaign by Hillshire Farm. From 2010 to 2012 she had recurring role on the CBS sitcom Rules of Engagement.