A Mom is a Mom is a Mom…
But my favorite kind of mom is one with a sense of humor. Which is why I am over the moon about having a good laugh with my dear friend, Kaitlin Olson on the show.
You know her from her hit television comedy series, It's Always Sunny in Philadelphia on FX, or from her recurring roles on Curb Your Enthusiasm, Meet the Marks, The Drew Carey Show, Miss Match and countless others.
Yep, she's a celebrity, and I'd be lying if I said I wasn't proud to know her although not for the reason you might think. If there is one person who has stayed completely grounded despite her fame in Hollywoodland, Kaitlin is the girl.  Its not often you meet someone who has it all- beauty, brains, talent, and love. She's the full package… and she's not all that different from me and you.
 READ MORE ABOUT KAITLIN OLSON HERE–>
Our Guest
Kaitlin Olson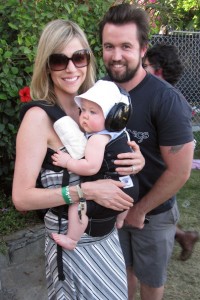 Born in a small town outside of Portland, Oregon, Kaitlin Olson cultivated her passion for acting at the University of Oregon, where she got her Bachelor's degree in Theatre Arts. After her stint on stage, she moved to Los Angeles to pursue acting professionally. She began at The Groundlings Theatre in Hollywood, training ground to comic greats such as Will Ferrell and Phil Hartman. Kaitlin secured a coveted spot in The Groundlings Sunday Company, which proved to be an amazing showcase, leading to recurring roles on both "Curb Your Enthusiasm" (2000), where Kaitlin plays "Becky", Larry's sister-in-law, and "The Drew Carey Show" (1995), where she played "Traylor", Mimi's nemesis, for two seasons.
Olson also had the honor of joining Drew Carey and several cast members of "Whose Line Is It Anyway?" (1998) on a USO tour, performing improv shows for US troops in Bosnia, Kosovo and Norway.
Soon after "The Drew Carey Show" (1995) ended, Olson was cast as a series regular on the Fox series "Kelsey Grammer Presents: The Sketch Show" (2005).
Previously, Olson has been a series regular on the Fox improv/hidden camera series "Meet the Marks" (2002) and recurred on "Punk'd" (2003) and "The Jamie Kennedy Experiment" (2002). She has also had notable guest starring roles on "Out of Practice" (2005) and "Miss Match" (2003), opposite Alicia Silverstone.
Olson currently stars as "Sweet Dee" on the FX breakout sitcom, "It's Always Sunny in Philadelphia" (2005).