Champions come from the most unexpected places.
I'd like to think of myself as a pretty open-minded and accepting individual.
No judgements here.
But in the realm of authenticity, I'll admit that when I was first introduced to Ryans Sallans, a trans-gender male, public speaker, educator and author of the book "Second Son," I found myself making quick assumptions about him – not that I am proud of myself.
Even I, who touts non-discrimination wondered… what's wrong with this person that he couldn't find peace until he had transformed his entire gender identity?
The more I read about Ryan, the more he became a hero to me. Gender identity is a complex and awkward topic, even for the most broad-minded and unbiased but through Ryan's writing, speaking and mentoring, his message is such an important one. He brings a multitude of  positive attributes to the trans-gender and gay communities, as well as to their families who love them and want to understand them. Shouldn't we all make an effort to be more understanding?
We can all learn a thing or two from Ryan Sallans, the brave trans-gender male who found his authentic self.
As a mother, I've always sworn that I'd be 100% accepting of my child's sexual orientation and lifestyle without question. But would I be able to maintain this stance should my child develop deep depression and extreme dysfunction due to gender identity crises?
Our children may decide to go down a different path than we had envisioned for them.
As parents, there is nothing we want more than our child's true happiness in life. To meet this life-long goal, we may be faced with circumstances that challenge our ideals and force us to push past our comfort zones. At some point we must concede that we will not always "know better" when it comes to our children's happiness. At which point,  there will be nothing left to do but trust that they will find their own path to whatever divine happiness means for them personally.
On this show, I will have the honor of interviewing this brave gentleman, an icon and role model for the trans-gender community, a patient teacher for those who are affected by their transitioning family members, and a life saver to suicidal teens.
Our Guest
Ryan Sallsans
Ryan Sallans is most known today as a national speaker who shares his story of transitioning from female to male. Through his presentation, FtM: Scouting the Unknown, Ryan takes the audience on a journey through his childhood and the struggles he had with his body before moving into his adult life where he explores college, romantic relationships, family and his physical and emotional journey related to his transition.
Since Ryan's journey began, he has documented every step. He wanted to share with others in the trans-gender community and give them someone to turn to during their own self-realizations. In addition to blogging and keeping a public diary, Ryan videotaped and photographed the changes he went through during each stage of testosterone therapy and surgeries. His story was shown on the LOGO network's documentary Gender Rebel and he has appeared twice on Larry King Live.
After over nine years as a Sexuality Health Educator for Planned Parenthood and the University of Nebraska combined, Ryan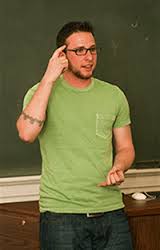 Sallans is now a full-time Public Speaker and expert in the trans-gender community who delivers speeches to thousands nationwide to provide insight on gender identity while using humor to take the edge off on the intricate clinical details of his story. His goal is to reach out to everyone, not just those within the trans-gender community, to educate, enlighten, and tackle the questions that most trans persons consider too private to discuss.
Ryan is also dedicated to helping those with eating disorders better understand their problems by sharing his own experience with Anorexia and Bulimia. He completed his education at the University of Nebraska-Lincoln with a BA in Anthropology and English, an MA in English, and an MA in Educational Psychology (Human Health Behaviors). He also worked as a Health Educator for a non-profit agency for many years before moving into diversity training and consulting.