It's simple. Just run your family like a Business.
Why not?
By using an empowering management style, who's to say that we can't educate, parent, and inspire ambition in our children as we raise them along side of our businesses?
If you are a parent struggling to balance career with family, you won't want to miss this discussion.
Simplify. Compartmentalize. Profit.
This is a revolutionary time for all parent entrepreneurs, but as we will discuss, we are still pioneering the industry- and that means paving the way for a younger generation of parent entrepreneurs. We know them now as our children.
In a world of entitlement and increasing dependence, it is important that we teach and inspire our kids to listen, be observant, work well with others, adapt, stay accountable and self-sufficient, and follow their inner sense of integrity.
Do we as adults encompass all of those things?
Can you imagine how much we would be accomplishing by now if this is the way we'd been raised?
On this show, I will be introducing you to successful entrepreneur, public speaker, author and businessman, Chris Efessiou. Chris found himself facing his greatest challenge when his marriage ended and he was left to raise his seven-year old daughter on his own. Without a manual, he stuck with what he knew and discovered that the same skills critical to success as a business leader seamlessly transferred to parenting. Chris will be joining us to share his discovery on how the principles that are essential in team building can be used to build a prosperous business and a loving family.
Our Guest
Chris Efessiou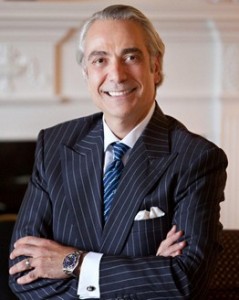 Entrepreneur, business leader, international speaker, author and father Christos (Chris) Efessiou knows a thing or two about success. In the past 20 years, Chris has founded, co-founded, developed, and managed multiple successful enterprises—all the while being a committed and present single parent.
Widely known for his business acumen, empowering management style, and out of the box thinking, Chris is committed to inspiring and guiding working parents to attain success at work and at home. Through speaking, coaching and his book CDO Chief Daddy Officer, he clearly defines the fundamentals of solid leadership critical in both arenas, and provides tools, tips and advice on how to transfer business skills to the business of parenting and personal relationships.
A sought after mentor and teacher, Chris is a visiting professor and guest lecturer at numerous academic institutions, including George Mason University's School of Management, and Northeastern University. A business leader and advocate, Chris serves as member of the Management Committee of the Small Business Council of the United States Chamber of Commerce, and is a keynote speaker on various topics, nationally and internationally.